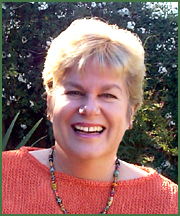 A Personal Message:
I'm a northern California native, yet have spent much of my adult life living in other places, adapting to other cultures. Life's challenges and transitions, including divorce and shyness, have facilitated my growth as a psychotherapist, helping me view change as part of life. In my private practice office at 405 Chinn Street in Santa Rosa I work primarily with individuals and couples and facilitate support groups for separation and divorce and co-parenting education. Particular areas of interest are: major life transitions including separation and divorce, couples counseling, co-parent education, shyness and social anxiety, self-esteem and women's issues. In 2004, I co-created the Co-Parent Empowerment Group of Sonoma County. Most recently, I have developed LifeStory Therapy--memoir or autobiographical writing for spiritual and emotional healing from loss and trauma.
Educational Background and Work Experience:
B.A. University of California; Berkeley, CA; 1967
California Elementary Teaching Credential; S.F. State University; 1970
Hospice Bereavement Counselor Training Program; 1985
M.A. in Counseling Psychology; J.F.K. University; Orinda, CA; 1989
Marriage, Family and Child Counselor License; 1993
3 years community clinic experience
Specialized training in transpersonal and body-oriented psychotherapies
13 years experience as licensed clinician in private practice
12 years experience facilitating separation/divorce groups
5 years leading groups for divorcing parents through "Kids' Turn" of Sonoma County
5 years teaching "Parenting through Divorce" class at Kaiser Permanente
Founded psychotherapists' community lecture series in both Marin and Sonoma counties
Presented numerous lectures and workshops in Sonoma County
Published articles on Separation and Divorce and Social Anxiety in various professional journals and newsletters
Co-founded Co-Parent Empowerment Group (COPE) of Sonoma County; 2005
My Approach to Therapy:
My philosophy has changed as I have changed. So many people I see are trying to stabilize from overwhelming loss—from separation or divorce or inability to sustain relationship. They feel huge disappointment and panic, having not learned to withstand the pain or free themselves from old constraints. They feel incapable of tolerating intense feelings, adjusting to change, and building a rewarding, happy life. My job is to inspire self-acceptance and support risk taking. I encourage self-affirmation and freedom from perceived limitations. The goal of my work is to help each person discover a whole and complete life, not bound by past or present circumstances.
Particular Clinical Specialties:
Separation and Divorce
Divorce remains a stigma in our culture and people who are going through separation often feel shaken to their core. Divorce affects almost every area of one's life. There is the legal divorce process and the emotional process—greatly complicated by betrayal, shared children and assets and length of time together. I see many people who were abandoned almost overnight, without any closure. They suffer from huge self-esteem/self-blame and betrayal issues. It takes time to regain trust because of the deep sense that an inviolate bond was ruptured. People left in this manner have a great need to be heard and to tell their story in the presence of a compassionate witness.


Separation and Divorce Support Groups
People find comfort and safety in the presence of others who understand the unique "roller coaster ride of emotions" associated with divorce. Often the very foundation of life has been shattered, leaving one with feelings of anxiety, grief, betrayal, guilt, rejection, and injured self-esteem. What helps is to be with others who offer validation and normalizing and to offer mutual support by sharing information/resources that ease the transition.


Co-Parenting Education
I believe passionately in supporting divorcing parents in building a cooperative co-parenting relationship. A substantial part of my work is the Co-Parent Empowerment Group—a six week skills class offering co-parents concurrent but separate groups—focusing primarily on feelings management, de-escalation of conflict and effective communication skills.


Shyness and Social Anxiety
Many people fear or simply avoid social situations because they experience anxiety, shame and deep inadequacy. In most cases we find a personal history of ridicule, shame and/or extreme criticism or judgment. Withdrawal or avoidance has become a way to cope—but a lonely way. Shyness and social anxiety are deeply intertwined with self-esteem. My clients say that they feel "weird, isolated, and very different from everyone else". To learn that this condition has a clinical diagnosis and is treatable through one-on-one therapy or group therapy comes as a huge relief.


LifeStory Therapy™
Research shows that autobiographical writing, when used therapeutically, can heal us spiritually and emotionally. Shyness, lack of confidence and shame may impede one's ability to talk, but they are not impediments to writing from our authentic self. Often, writing about one's life and reading it in the presence of safe witnesses is the opening to acceptance and to claiming oneself in the complexity of pain and love. LifeStory Therapy™ may be done individually or in LifeStory Therapy™ groups.
Other Specialties include:
Life Transitions
Couples Counseling (includes premarital, pre- or post-divorce)
Grief and Loss
Self-Esteem
Women's Issues
Please see Specialties page
Professional Affiliations:
California Association for Marriage and Family Therapists (CAMFT)
Redwood Empire Chapter of CAMFT